Tervis Blog
Best Smoothies Recipes for 2019
Ah, the obligatory healthy blog to start the New Year, right? Wrong.
Well, sort of. It's about smoothies. And they are healthy. And in this case, very tasty.

And besides, most of us have already trashed our resolution list. Why? Because we set unrealistic goals with unrealistic time frames. And drank yucky smoothies.
You can't get healthy overnight. You can't get healthy without the proper motivation. And I don't know about anybody else, but, "Kale smoothie" are two words, I'm pretty sure never motivated anyone. And that color. Sorry, not gonna drink it. Not today. Not next January 1. Not ever. 
Instead, we need to be realistic. Set easy goals within reasonable lengths of time. Results will come. With the right workout regime and motivation. And drink great tasting smoothies. With actual ingredients you like. 
Stop following those trends by the "experts," they change all the time, for a reason. Trends make somebody a lot of money! The only right workout and diet, is the one that's right for you. Not the actress or actor with unlimited funds and a house staff that does all the daily prep and planning at a cost us real people just can't fathom.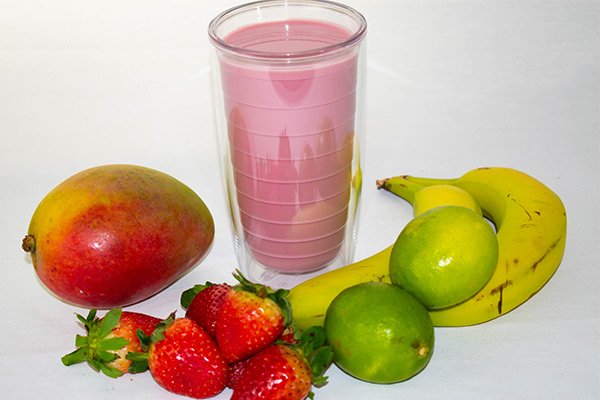 That's why we offer you these affordable, delicious and very nutritious smoothies with fruits and flavors that were here long before kale and kombucha, and will be here long after.
And these smoothies are great any time of day and after every type of work out.
The best smoothies recipes are usually the simplest – a few great ingredients, a blender and a push of a button. Like these three:
Watermelon Lime Smoothie
The lime adds just the right citrus balance to this delightfully sweet and healthy smoothie.

Stuff you need
2 cups watermelon pieces, seedless, cut into 1 inch cubes
1 tablespoon lime juice
1 cup frozen strawberries
6-7 ice cubes
2 teaspoons honey (optional)
Stuff to do
Combine all ingredients in blender.
Blend thoroughly.
Serve in a Watermelon-themed Tervis.
Cheers!
Pineapple Smoothie
Like a trip to the tropics without having to pack or wait in those lines at the airport.
Stuff you need
1/2 cuppineapple juice
1/2cupcanned coconut milk
1 cupfrozen mango
3/4 cupfrozen pineapple
1/2frozen banana
(If you can't wait to freeze the fruit, just add a half cup, or so, of ice.)
Stuff to do
Combine pineapple juice and coconut milk into the blender. Make sure coconut milk is in liquid form.
Add the pineapple, mango, and banana.
Blend until smooth.
Serve in decorative Tervis tumblers.
Enjoy! 
Skinny Orange Cream Smoothie
Remember those awesome Push-Ups you bought from the Ice Cream Man? That's what this tastes like, and it's healthy.

Stuff you need
1 orange, peeled
1 teaspoon vanilla extract
1 teaspoon honey
1/4 cup almond milk
1/4 cup Greek yogurt
1/2 cup ice

Stuff to do
Combine all ingredients into blender.
Blend until smooth.
Serve in an insulated Tervis tumbler.
Enjoy at your leisure.